About 3,800 acres of mixed grassland and shrubland in the northwestern foothills of the Big Snowy Mountains is being studied by Montana Fish, Wildlife, & Parks for a possible conservation ease.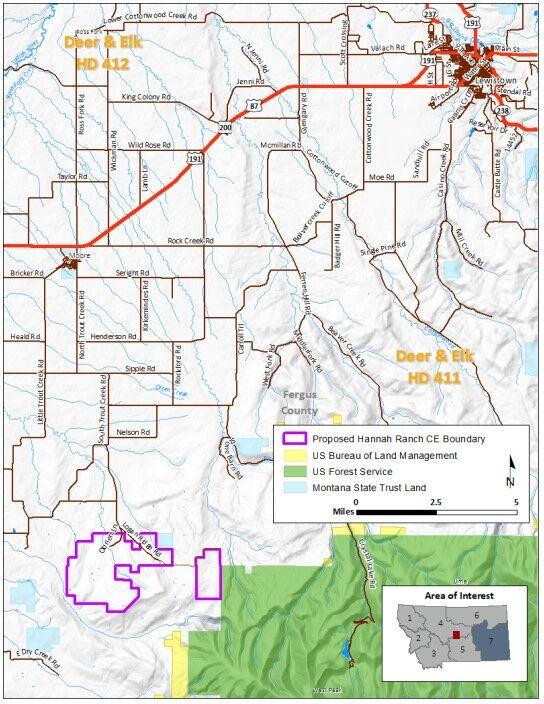 The land is part of the Hannah Ranch, established in 1883 by Rogers Clifford. Clifford came to Montana from Maine in 1879, according to a history of the community of Moore. Clifford bought the ranch after working in the sheep industry in the White Sulfur Springs area. He was also the president of the First National Bank in Moore.
The land is now owned by Hannah Ranch LP. The property is located in Fergus County, within deer/elk Hunting District 411.
FWP is preparing a draft environmental assessment analyzing the easement. As part of that, the agency invites the public to identify any issues and concerns related to this proposal by Feb. 22. Comments received during this period will help FWP determine public interest, identify potential issues that would require further analysis, and provide insight for refining the proposal or developing and analyzing alternatives.
The property adjoins and facilitates access to the west Big Snowy Mountains where limited public access currently exists. The primary objectives of the proposed conservation easement are to provide perpetual conservation and enhancement of high-quality native habitats, maintain traditional agricultural land uses and provide opportunities for public access and recreation.
The ranch provides year-round (including winter range) habitat for elk, mule deer, white-tailed deer, moose, pronghorn, black bear, mountain lion, bobcat, wild turkey, sharp-tailed grouse, Hungarian partridge, pheasant, waterfowl, and a host of nongame and state Species of Concern, according to the FWP proposal.
The landowners receive financial compensation in exchange for adopting conservation and public access covenants while continuing to operate the ranch.
A copy of the scoping proposal is available online.
Written comments can be submitted to: Montana Fish, Wildlife & Parks, c/o Hannah Ranch Conservation Easement Proposal, PO Box 938, Lewistown, MT 59457. Or email comments to san[email protected] Attn: Hannah Ranch Conservation Easement Proposal.
If you have any questions regarding the proposed project, call Lewistown-area wildlife biologist Sonja Andersen at 406-366-5266 or email: [email protected]